Technical Excursions
The Scandinavian countries are close connected. From Copenhagen you can go to Sweden by bridge in 15 minutes. It only takes you some hours to go to Norway by car or by boat. Scandinavia gives you a lot of exciting places to visit. Whatever you will travel around on your own or if you will participate in the technical tour arranged by the congress.
We will make sure that you get the chance to experience Scandinavian beekeeping up close and even meet and talk to Scandinavian beekeepers. We will even arrange home hospitality and let some participants stay with Scandinavian beekeepers. Are you or your partner more interested in tourist tours you will also find plenty of tourist and cultural attractions.
On this page you will find some examples of what you might be looking forward to.
BEEKEEPING ATTRACTIONS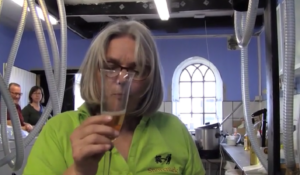 MEAD (DK)(S)(N)
Ever since the Viking age, Scandinavia has been traditionally brewing mead (mjød), an alcoholic drink made with fermented honey. Today Scandinavian has several major mead breweries, whose products have earned praise around the world – at international competitions and as an export item.
QUEEN-BREEDING (DK)(S)(N)
Scandinavian has a long-standing tradition of queen-breeding, and a large part of the annual production is exported. It is very interesting to visit some of the legally sanctioned mating islands and mating areas.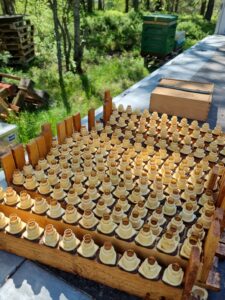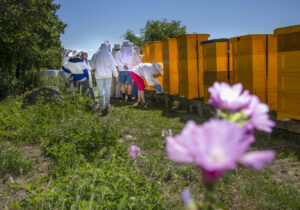 INSTRUCTION APIARIES (DK)(S)(N)
Most of the local beekeepers associations spread across Scandinavian have their own instruction apiaries where they hold regular meetings and welcome and train new beekeepers.

IN NORWAY
HONNINGCENTRALEN
Honningcentralen was established in 1927 and is a cooperative for beekeepers throughout Norway. They receive members' honey and resell it through grocery stores. Honningcentralen sells beekeeping equipment to all beekeepers in Norway.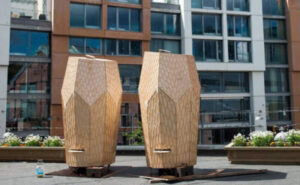 BYBI OSLO
ByBi's main apiary is located at Gartneriet Bygdø Kongsgård by Oscarshall Castle. In the garden's premises. In the apiary, groups are invited to visit to learn about the bees' fascinating life. Some days there is an open house where you can see how honeymooning takes place, taste different local honey from Oslo, tap honey and have a chat. In the nursery's premises, there are courses and activities all year round. The nursery consists of a visitor center with a café and greenhouse. Here are chickens, orchard, flowers and vegetable production.
HEIER DU RIETZ (N)
Heier du Rietz became a world celebrity with his beehives designed by the international office for architecture Snøhetta. Heier du Rietz runs urban beekeeping in Oslo and traditional beekeeping in Hadeland.

IN SWEDEN
KIVIK
In Kivik you will find Sweden's largest apple production. Kivikbhar mustery and of course beekeeping for pollination of apple production, where Kiviks Musteri since 1888 has processed not only apples but all kinds of fruit. The climate in Østerlen is mild and suitable for fruit growing. In September, there is a large apple market in Kivik.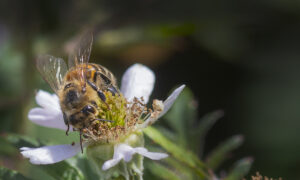 HVEN
From Copenhagen you can sail to the Swedish island of Hven. The island is one of the Scandinavian registered areas for queen breeding. At Hven, astronomer Tycho Brahe had his observatories at Uranienborg Castle and Stjerneborg Observatory.
LANDSKAPSHONUNG
The company Landskapshonung (Landscape honey) is a collaboration between more than ten major Swedish beekeepers, who also buy honey from smaller beekeepers. Honey is often harvested and bottled by the individual beekeeper and sold all over Sweden under the common brand "Landskapshonung".

IN DENMARK
SWIENTY
Located in Sønderborg, a dynamic, industrious city by the Danish-German border, is the place where Swienty has production, administration, our showroom and our warehouse with over 1000 different products. Swienty A/S has been awarded numerous awards during recent years. Several times they have received medals at APIMONDIA.
JAKOBSENS HONEY (DK)
Jakobsens Honey is Scandinavia's leading packer of honey. They offer a wide range of conventional, organic and Fairtrade honey, as well as agave syrup for retail, catering and industrial purposes.
They primarily sell their products in Scandinavia, but have recently started exporting to a list of European countries, as well as distribution to China and Japan. Production and bottling of honey takes place under strict quality procedures, ensuring high product quality.
PROFESSIONAL WAX-MELTING (DK)
A few companies in Denmark is specialized in professional wax-melting. It is done in wide scale as a service for Danish beekeepers.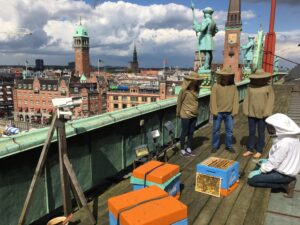 BYBI COPENHAGEN (DK)
The Copenhagen social enterprise Bybi ("city-bee" in Danish) has numerous apiaries in and around the capital. The Bybi team work with social counsellors, organizations and local businesses to create new opportunities for disadvantaged citizens.
AGRICULTURAL INITIATIVES TO ENSURE ADEQUATE FORAGING SOURCES FOR BEES (DK)
Denmark is the world's most intensively farmed country, so it is crucial that we create a state of constructive coexistence between nature and agriculture. That is why Denmark has numerous examples of remarkable agricultural initiatives that will benefit our natural surroundings – for instance by ensuring adequate foraging sources for bees in an intensively farmed landscape.
POLLINATION OF SEED PRODUCTION (DK)
Seed production is an important activity for Danish farmers. They contribute about 50% of the total EU production of grass and clover seed, putting them at the forefront in this field. There is also a sizable production of horticultural seeds for spinach, chrysanthemum, various cabbages, herbs, and flowering plants. In this context beekeeping naturally plays a decisive role in pollinating the seed crops.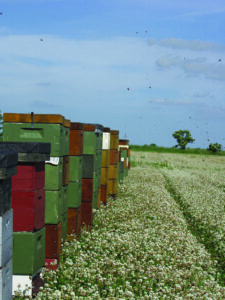 AARHUS UNIVERSITY, DEPARTMENT OF AGROECOLOGY (DK)
Aarhus University, Department of Agroecology has facilities at Flakebjerg – only 100 km from Copenhagen, and they can show facilities and ongoing research activities.